Moving is a stressful process. No matter if you are moving across town or to the other side of the country, packing your belongings is a lot of time-consuming, hard work, especially if you have to move quickly. You may have found yourself in a situation where you have to move unexpectedly, or you had been planning your move for a while but have procrastinated packing your possessions. Either way — do not panic! With these last-minute moving tips on how to pack for a move quickly, you will be able to prepare for your move in no time.
At Little Red Wagon Moving, a moving company in Colorado Springs, we are experts at last-minute moves. Our professional movers have extensive experience packing and moving quickly and efficiently. We understand how stressful it is to move when you have limited time, which is why we have put together this list of six tips to help you pack for a move quickly.
So, if you need to move as soon as possible but are not sure where to start, keep on reading!
1. Plan Your Move
One of the hardest parts of quickly moving is getting started. The amount of work you have to do to move can make you feel overwhelmed. When you feel stressed and overwhelmed, it can be easy to procrastinate the packing process.
When you feel like this, remember to take your move step by step. A great way to plan a quick move is to create a moving checklist. A moving checklist will help you plan an organized move and ensure you complete all necessary tasks.
A thorough to-do list is also helpful to ensure you are not missing any steps in your moving process. For example, you can write down what rooms you will pack first. Additionally, you can create a timetable and allot yourself a certain amount of time to ensure you stay on track.
2. Declutter Your Items
It is vital to stay organized during your move. This will help you pack your belongings faster and allow you to quickly find your valuables when you begin to unpack. This means that you should go through your belongings and purge your unwanted items before packing for your move.
When decluttering, here are some tips for decluttering quickly:
Donate unwanted items

Donating your unnecessary items is a great way to declutter your belongings before your move. Look through your clothes, furniture, and canned goods to see what you can donate. Local donation centers, homeless shelters, and women's shelters always look for donated items. Donations are an excellent way to purge your unnecessary belongings while supporting your community!


Give unwanted items away

Before throwing any items away or recycling your unwanted belongings, consider giving them away. Your friends and family are great places to start to see if they are willing to accept any items. You can also talk with your neighbors, as they may be more than happy to take any of your unwanted items before your big move.


Recycle or throw away damaged items

Sometimes it is impossible to donate or give away every item. It is best to recycle your broken, unusable, worn, or expired items when you can. When you cannot recycle your items, throw them away. Taking damaged items with you on your move will add more time packing and unpacking them, so it is best to recycle or throw them out when possible.
3. Organize Your Essentials
Moving can be highly stressful. Not only do you have to pack all of your belongings at your old home, but you have to unpack your items once you arrive at your new place. This process can quickly become overwhelming.
Plus, the last thing you want to do after a move is immediately begin to unpack your items. You deserve to give yourself a break to settle into your new space.
Pack an essentials box to combat feeling unorganized before, during, or after a move. This box should include every item you need for the first week or so in your new home. Include clothes, toiletries, electronics, chargers, and any other items you may need. An essentials box will help you stay organized and focus on settling in and exploring your new neighborhood.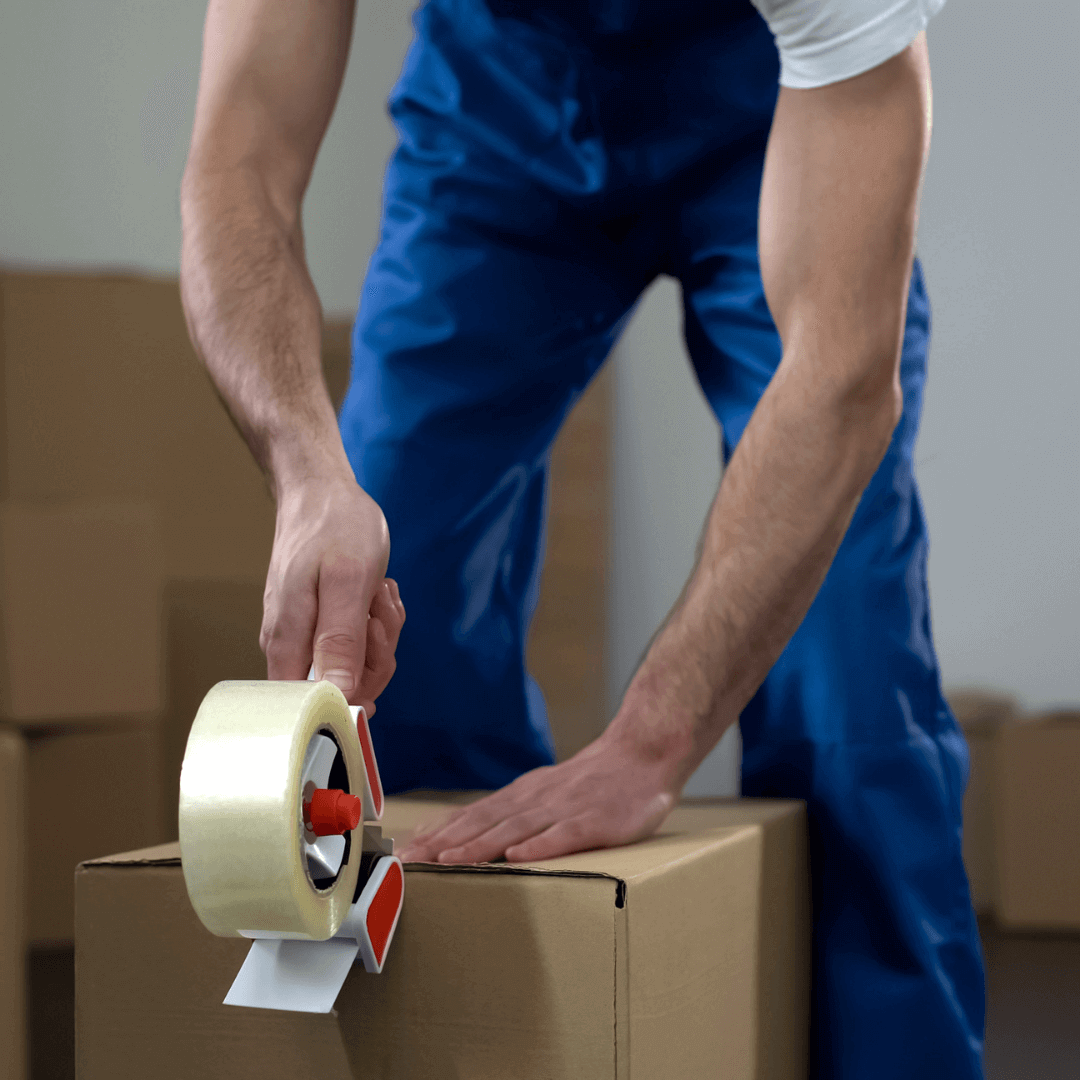 4. Ask for Help
Asking your close friends or family for help is an excellent way to pack for a move quickly. The more helping hands you have, the easier it will be to pack as quickly as possible for your move!
If you can gather a group of 5-6 people to help you move, divide them into groups. The best way to move efficiently is to assign small groups to different rooms. One group can start in the kitchen while another begins to pack the bedroom. Having help will make for a super fast and efficient moving process.
5. Don't Sort
If you decide to pack room by room, do not worry about sorting your items! When limited on time, do not waste it by worrying about specifically sorting your items in boxes to keep them organized.
For example, you may want to pack all of your shoes in one box, but this type of sorting can add significant time to your packing process. Rather, sort your items by room. For example, put all of your kitchen items in boxes and label the boxes "kitchen". This process will save you time and keep your items organized by room.
You can worry about thoroughly organizing and sorting your items in your new home when you begin to unpack.
6. Hire Professional Movers
Moving is an incredibly stressful and tedious process. It is even more stressful to pack your belongings when you have to move quickly, and you may not know where to start.
If you feel like this, your best bet for an efficient move is to hire professional movers. If you are looking to pack for a move quickly, professional movers can assist you with your last-minute move. A professional moving company will help you move your items carefully and quickly so you can move out of your old home and into your new home as soon as possible.
Move Quickly With the Happy Movers at Little Red Wagon Moving
Moving can feel very chaotic, especially if you have to pack for a move quickly. By making a plan, organizing your essentials, and asking for help, you will be sufficiently prepared to move quickly. At Little Red Wagon Moving, our professional movers have the knowledge and experience to pack for a move quickly.
If you do not want to go through the stress of having to pack your items quickly, our happy movers will pack and move your belongings to your new destination. No matter if it is long-distance moving or local moving, Little Red Wagon Moving will make sure your move is as quick as possible. If you have questions or if you need to pack for a move quickly, contact our team today!