Lots of work goes into planning a move. From packing up all of your belongings and deep cleaning your apartment, the moving process is a ton of hard work that can leave you feeling exhausted. There are so many things you have to do before moving, including cleaning. If you are moving out of an apartment, you may be thinking about how much easier it would be if you had a moving checklist. Luckily, this apartment moving-out cleaning checklist is sure to keep you organized as you plan for your big move!
At Little Red Wagon Moving, a moving company in Colorado Springs, we know how time-consuming it is to prepare for your move. Not only do you have to plan how you are going to pack, but you also have to clean your apartment from top to bottom if you want the best shot at getting your security deposit back. As a professional moving company, we are on a mission to make the moving process as easy as possible. With this apartment move-out cleaning checklist, you will have everything you need to know about cleaning your apartment before moving.
If you are about to move from your apartment, keep reading to learn more about what you should clean to prepare for your move!
One part of making your move is cleaning your rental unit. Regardless if you're in an apartment, duplex, townhome, or rental home, this means having to clean the walls, floors, windows, and all other surfaces throughout. If you want the best shot of getting your deposit back, you should make the place look like new.
To make sure you don't miss anything during your apartment move-out cleaning, here are some tips on what you should do.
1. Clean Your Walls
If you have lived in your apartment for many years, you will be surprised at how dirty your walls can get! Making sure your walls are spotless is one of the most important things you can do before moving out. This includes cleaning your walls, wiping down the baseboards, and removing any nails. Make sure your walls do not have any scuff marks, dirt, or smudges.
Also, if you have nails in your walls from pictures or electronics, make sure you remove them. You can patch up the nail holes by using putty and the same color paint as your apartment walls. The goal is to make your walls look as good as new.
2. Clean Up Dust
Another necessary step in your apartment cleaning process is dusting your home. While you may not dust each time you clean your home, dusting your apartment is crucial when moving out.
Make sure you check every room, including the living room, bathroom, kitchen, and even closet areas. Every inch of your apartment needs to be dusted. Your bathroom's exhaust fan, your bedroom's blinds, and even your ceiling fans need to be clear of any dust.
3. Clean Kitchen Appliances
It is not surprising that your kitchen appliances get dirty over time. This is completely normal considering how often all of us use our kitchen each day. However, your appliances need to be thoroughly cleaned before moving out.
First, make sure to remove all of your items from your kitchen. This includes emptying your refrigerator, kitchen cabinets, and other personal items in your kitchen before you start to clean. Your stove, oven, fridge, dishwasher, and any other appliances in your apartment need to look brand new. The last thing you want to do is leave a dirty kitchen when your landlord comes to inspect your apartment.
4. Deep Clean Your Bathroom
Cleaning your bathroom goes beyond just cleaning the countertops and floors. Before moving out, your bathroom needs to look spotless. This includes deep cleaning your sink, tub, shower, mirrors, and toilet.
There should be no water spots, soap residue, or streaks. Remember to wipe down your sink and shower faucets, too. Your sink and shower need to be cleaned along with the drains. A drain cleaner can be helpful to remove any gunk in your bathroom drains. Your toilet bowl needs to be cleaned as well as the lid, the outside, and under the seat. Each area of your bathroom should be scrubbed and shiny!
5. Clean Your Floors
Before you move out, you must clean your floors. Your floors collect dirt, stains, and other debris that need to be removed before your move-out day. Regardless if you have carpet, hardwood, or vinyl, you will not want to forget to clean your floors.
From accidental stains and dirty spots from shoes, you need to clean your carpet before you move out. You can find carpet cleaning supplies at your local store, which will help lift stains and dirt from your floors. Baking soda can also work to clean and deodorize your carpets.
Other types of flooring, such as hardwood floors or laminate flooring, can be cleaned with a vacuum and mop or broom. Make sure your floors are completely dry before vacuuming.
6. Repaint Your Walls
Painting the walls is one way to make sure your apartment looks brand new before you move out. You can buy a small amount of paint if needed and use it to freshen up any area of your apartment.
If you have used nails to hang pictures and decorations, make sure to fill any holes with spackle or caulk before painting. Also, ensure you use the same color paint as your apartment walls.
7. Wipe Down Baseboards, Doors, and Doorframes
This is an often-forgotten part of the apartment move-out cleaning checklist. Every door, baseboard, and doorframe in your apartment needs to be wiped down as well. These areas of your home can get especially dirty over time, as it's usually not a normal part of your cleaning process.
Use a wet cloth and cleaner to scrub off any dirt or marks on your baseboards and doors. Make sure these areas are just as clean as the rest of your home before you move out.
8. Clean Windows and Window Sills
Don't forget about your windows! Make sure you clean all of the windows in your apartment before moving out. This includes wiping down the window sills as well. You can use a glass cleaner to make sure your windows are crystal clear.
9. Clean Out Cupboards and Cabinets
Before you move out, make sure to clean out all of your closets and cabinets. Wipe down the shelves and drawers with a cleaner before putting away any items. You don't want to be leaving anything behind when you move.
This includes cleaning out your kitchen cabinets, bathroom cabinets, and storage closets. Don't forget about your balcony or patio as well! Make sure these areas are just as clean before you move out.
10. Take Out Any Trash
Finally, the last item on your apartment move-out cleaning checklist is to take out any trash. Make sure you empty all of your garbage cans and take out the trash before you leave.
If there are any old items or furniture that you don't want to keep, make sure to get rid of them properly. Take any large pieces of furniture to the local recycling center or donate them to a charity.
Moving out of an apartment can be stressful, but if you follow this apartment move-out cleaning checklist, your home will look like it did when you first moved in!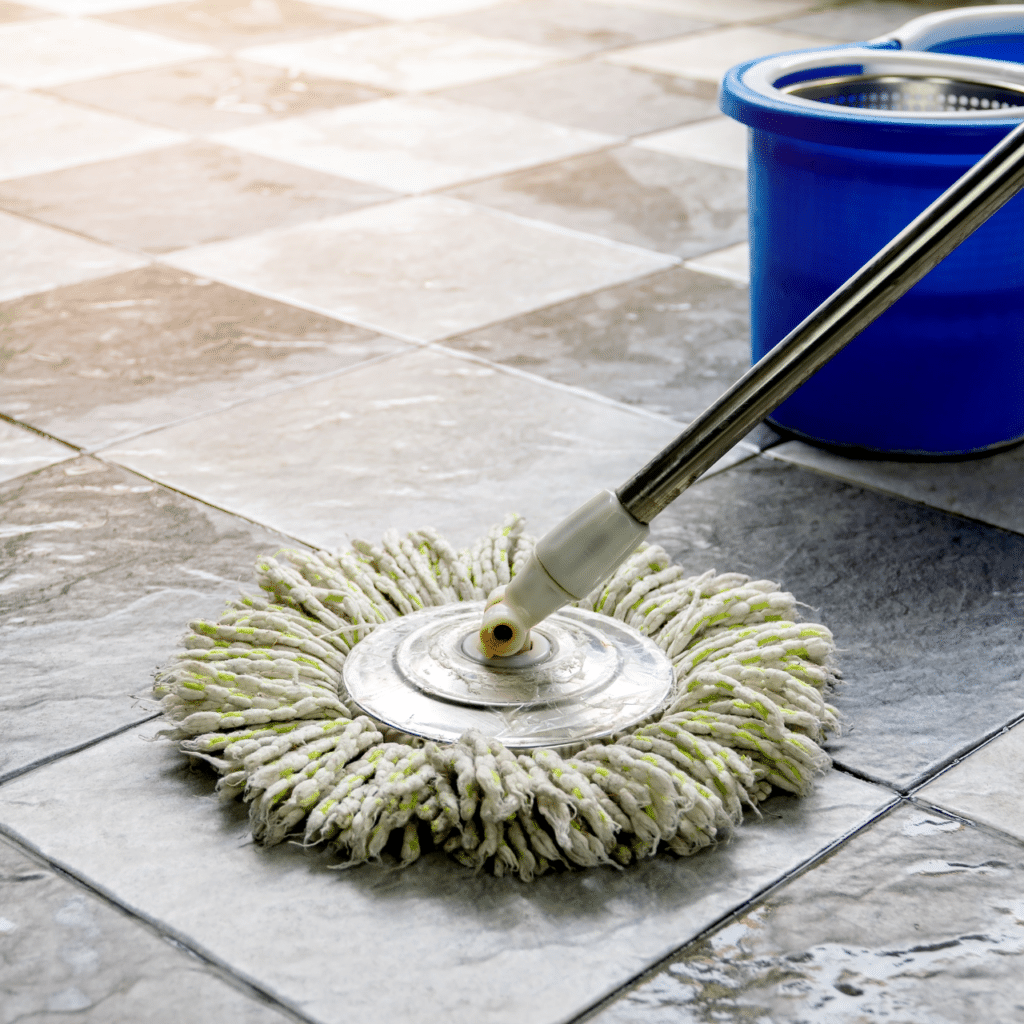 Moving Cleaning List for Each Room
Here is a moving cleaning list for each room to keep you on track!
Kitchen
Clean refrigerator, oven, stove, and microwave
Dust shelves, cabinets, and drawers
Vacuum floors, clear out any food or crumbs
Wipe down countertops, sink, faucet, and appliances
Clean windowsills and backsplash
Mop kitchen floors
Bathroom
Clean your shower, tub, and toilet
Wipe down the sink, countertops, and mirror
Sweep and mop the floor
Vacuum behind the toilet when floors are dry
Clean mirrors
Living Room & Bedroom
Dust shelves, cabinets, and drawers
Vacuum carpets and rugs
Mop hardwood floors
Wipe down windowsills
Dust window blinds or curtains
Clean trimming and baseboards
Clean doors and door frames
Dust air vents
Move Fast and Easy With Little Red Wagon Moving
Moving is not easy. It takes a lot of time and energy to pack your items and clean your home. If you are moving out of an apartment, this apartment move-out cleaning checklist is sure to help keep you organized as you prepare for move-out day!
At Little Red Wagon Moving, our goal is to turn the dreaded process of moving into a light-hearted experience. As a professional moving company in Colorado, we understand the hard work that goes into moving. We are passionate about reducing the stress of your move. Whether you need the assistance of our residential or commercial moving services, or you are looking for the best moving resources, Little Red Wagon Moving is here to help! If you have any questions about our moving services, our Happy Movers are here for you. Contact us today!