Make Moving Easy With Our Moving Checklist
Moving is a complicated and stressful process. There are so many details that need your attention. From packing up the kitchen to the kids' rooms, it's hard to keep track of all of the different parts. That's why our 8-week moving checklist is here to make it easy to keep track of everything that needs to happen leading up to your move.
Little Red Wagon is your go-to affordable mover in Colorado Springs. Our passion is to provide you with a stress-free experience. No matter if you need a small move or you're moving across the country, our Happy Movers will move your belongings with care. We've created a comprehensive moving list that will be your guide to a smooth move. Ready to make moving easy? Download the checklist now!
How to Prepare for Your Move
Moving day is a big event, but it doesn't have to be a stressful one. Planning ahead is key and knowing how to properly prepare for the big day is essential. It's best to start planning your move at least two months in advance, giving you enough time to declutter, do research on moving companies, estimate costs, and all the other miscellaneous tasks that need to be done before the move starts.
One of the most useful tools for any relocation is a checklist — its time-saving ability and organization make it an invaluable asset. From pitting movers against each other to noting important contact information, having a list of tasks can make sure no detail goes neglected during the whole process. Take a look at the Happy Movers' 8-week moving checklist to keep you on schedule week by week!
8 to 6 Weeks Before Moving
You should ideally begin planning your move 8 to 6 weeks before the big day. Here is what you should expect to do at the start of your moving journey!
Either on your computer or in a binder, create a dedicated space to store moving information, like estimates, company names, and receipts.
Before your move, you should have a budget in mind. Include your upcoming expenses. Also, if you're relocating for a new job, ask your employer if they can cover a portion of the expenses.
Research moving companies
This is also the time when you should start researching companies. Find at least three companies and get an estimate from each. Don't forget to ask about their licenses and insurance!
You can help streamline your move by eliminating clutter. Plus, you don't want to bring extra clutter to your new home. Search through your belongings and donate and sell items when you can and get rid of the others.
Make arrangements for documents
Important documents need to be transferred to your new home. For example, make sure you'll have school and medical records transferred to your new home.
Two months before your move, research your new neighborhood and what the community offers. Look up parks near your home, your kids' new school district, how far you'll be from your job, and more.
Identify any special furniture items
If you have any unusual furniture items, like a grand piano or pool table, make sure your movers will be able to accommodate you!
If you are renting and planning to move, make sure to let your landlord know. You'll have to settle any outstanding debt with them before you can move.
Take an inventory list of every room. Doing so not only makes you more organized but will come in handy if something gets lost.
6 to 4 Weeks Before Moving
The last two weeks you've been getting rid of clutter, taking inventory, and researching your moving options. Now it's time to get boxes and start packing.
If you're not using the help of family and friends to move or renting a moving truck, a moving company can make your move quick and easy. Plus, using professional movers means you don't have to worry about getting a moving van or asking family to help pack. At Little Red Wagon Moving, we're a full-service moving company, which means we do it all from packing and unpacking. Schedule with our team today!
Ask friends and family for help
If you're not using a moving company for your big day, friends and family can hopefully help. It's best to ask family and friends 7 to 8 weeks in advance so they can put you on their schedule sooner than later. Don't forget to buy friends and family food for their helpful services.
You'll want to begin to gather your packing supplies, such as boxes, wrapping paper, and bubble wrap. If you're looking to save money on supplies, check your local liquor store, grocery shop, or Craigslist for free moving boxes. For more suggestions, see our blog post for places to get free moving boxes.
Begin packing your belongings
It's time to start packing! Here's a tip: start with seasonal items and items that you don't use often. Also, remember to label all boxes appropriately. Doing so will keep you organized. Don't forget to write "FRAGILE" if applicable.
Update any accounts and subscriptions
This is the point in time when you'll want to update your accounts with your new address. This includes your bank, utility company, insurance provider, and magazine or newspaper companies.
Make travel accommodations
How do you plan to get to your new neighborhood? Are you driving there? Maybe you're flying across the country? However you're getting to your new home, this is the time to book your tickets, hotel reservations, or rental cars.
Everyone wants to get their security deposit back. If you're renting, make sure you make the minor home repairs that need to be done. This can include paint touch-ups, removing nails from the walls, or replacing a part of the carpet.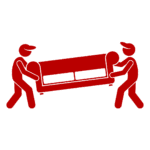 4 to 2 Weeks Before Moving
So, you've finalized your moving company and you're now beginning to pack up your home. What's next? Now it's time to take care of the finer details of your move.
Pack as much as possible, including kitchen items, decorations, pictures, extra bedding, etc. For clothing, pack everything except for a couple of weeks' worth of outfits.
If you need storage for your move, make sure to arrange this near your new home or business.
Change your address with government agencies
Don't forget to change your address with governmental agencies, like the U.S. Post Office. Read every organization that you should update with our Report Address Change resource!
Organize the items that you will transport yourself. This may include stuffed animals, makeup, and certain clothes.
Obtain a copy of your floor plan
One way to streamline your move is by obtaining a copy of the floor plan of your new home. You can help plan the placement of furniture this way. Doing so is a great help for the movers, and it will save you both time and money.
1 to 2 Weeks Before Moving
Almost there! You only have a few weeks before your move. Here's what you need to know about 1-2 weeks before.
Pack most of your belongings
Almost everything should be packed by now. You should only have the essentials unpacked that you will be taking with you on moving day.
Plan to request time off work on your moving day, if possible. You will ideally want to be available in your house to answer any questions for the movers.
Dispose of any hazardous items
Some items cannot be safely transported. This includes gasoline, aerosol cans, some types of paint, and other related items. Make sure you dispose of these items before moving day.
If you have any pets, make travel arrangements for them.
Make sure to eat perishables and frozen foods as much as possible in the next two weeks.
In the week or two leading up to your move, plan a moving party! Invite your neighbors, friends, and family members to eat and have a great time before they have to say goodbye.
Crunch time! You're down to seven days before you arrive at your new home. Here's what you need to have ready by moving day.
Pack as if you were going on vacation
Have all of your family members pack as if they were going on vacation. Pack things like your toothbrush, toiletries, clothing, and other essentials. This gives you time in your new home to relax and the freedom to unpack at your leisure.
Don't forget to deep clean your home, especially if you want your security deposit back. Prospective buyers will also want to see a clean home.
If you have large pieces of furniture, you'll want to disassemble them. Same with fitness equipment. Think of items like bed frames, section couches, and bookshelves. Your movers may also be able to do this if you're moving with professional movers.
Prepare for a final walkthrough
If you're renting, your landlord may want to see your place before you leave. They may request to walk through the unit before you leave, so you'll want to prepare for this.
Having cash on hand is essential for emergencies and tipping your movers. It's always best to be prepared just in case.
Clean out your safe deposit box
If you are switching bank locations, make sure your safe deposit box is empty.
Clean out your refrigerator and pantry
Pack all nonperishable items, and dispose of any items that would not survive the move.
The day has finally come. If you've followed this checklist, you're probably thinking about how efficient your move has been. You're almost there, and here are the last things you need to know.
Don't trash your moving folder! You will need it to verify expenses when you file your federal tax return.
Turn off lights and appliances
Go around the house and turn everything off, including unplugging the fridge. Close all windows and doors, and leave your old keys behind.
Remain attentive and available
Throughout the day, remain aware of your move, and answer any questions your movers have about your items. They may also ask about the best route to take to your new address.
1 to 2 Weeks After Your Move
After your move, you'll want to get settled in your new home. Here's what you should consider when you're moved in!
Organize your boxes by room and start to unpack your belongings. Make sure you donate your boxes when you're done!
Explore your neighborhood
Get out and explore your new home! Drive by your new kids' school, your new job, parks, and other fun activities that you'll do in the future.
Make Moving Easy With Little Red Wagon Moving
Moving is a big decision. So much goes into your move from selecting the right company to updating your address. It's hard to keep track of everything. Luckily, our moving checklist has everything you need to keep you on track.
At Little Red Wagon Moving, we are your affordable Colorado Springs movers specializing in making the moving experience stress-free. We want to provide valuable resources for everyone needing to move. Whether you are a commercial business with large items or a residential home with boxes and boxes of belongings, our team can handle it. Making sure that you are prepared for a move will make the process smooth and stress-free. Looking to make your move easy? Contact Little Red Wagon Moving for an estimate!